Irrigation Management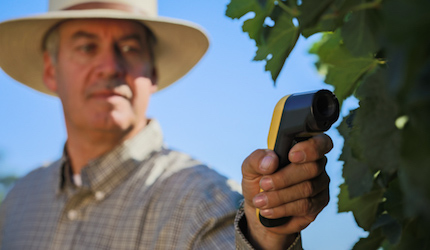 Irrigation Management is one of the keys to wine quality. CVC's irrigation management program is designed to optimize wine quality...
We believe that wine quality starts in the vineyard. CVC's water management program has a proven track record of maximizing fruit quality, reducing pumping costs and conserving resources for many premium growers and wineries. CVC uses a combination of techniques to accomplish our water management objectives. We measure soil moisture with the most accurate technology available throughout the growing season. Our trained viticulture staff also uses pressure chamber readings, visual observations, plant measurements, canopy temperatures and physiological conditions to make a comprehensive assessment of the vineyards. This data is used to produce CVC's Stress Index Curves ® presented on our unique Viticulture Chart. A Stress Index Curve is CVC's proprietary Soil-Water-Plant relations rating system, which we have used successfully for over 20 years. As a component of our Irrigation Monitoring Program, Stress Index Curves accurately depict how vineyard growing conditions impact wine quality. An experienced Certified Professional Agronomist reviews each chart and provides irrigation recommendations.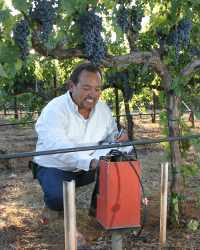 CVC's Irrigation Management provides:

Graphed accurate soil moisture readings with the recommended irrigation amounts.


Weekly Vineyard observations by trained viticulture staff including phenological stage, periodic pressure chamber readings, shoot length measurements and stress index rating in a Soil-Water-Plant Relations graphed format.


Site visits and irrigation recommendations by a Certified Professional Agronomist and Soil Scientist.