| | | |
| --- | --- | --- |
| | Coastal Viticultural Consultants, Inc. | |

About the CVC Team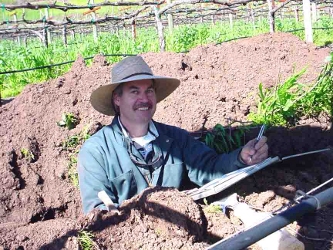 Coastal Viticultural Consultants, Inc. employs a multidisciplinary staff of technical and highly experienced people whom are proficient and current in their respective disciplines. Personnel employed by CVC are selected for their technical expertise and experience, as well as for their abilities to understand client's needs, communicate effectively, and their ability to work as a cohesive team. CVC staff regularly attends continuing education courses to keep current on the latest viticulture research, practices and technologies.
The following is a summary of the key personnel of CVC:
Bryan L. Rahn, CPAg/SS, CCA, President
---
Mr. Rahn is a Certified, Professional Soil Scientist and Agronomist, and has been a consulting soil scientist and viticulturist since 1982. Bryan's soil science and agricultural consulting career spans a wide range of crops as well as designing soil reclamation plans for major mining projects. Mr. Rahn has designed, developed and manages his own world class vineyards in the Napa Valley and in the San Francisco Bay area. He has provided agricultural/ vineyard consulting throughout California, Oregon and internationally. Mr. Rahn is an industry leader in soil mapping, grape and wine quality enhancement, vineyard irrigation, winegrape nutrition and vineyard design. Mr. Rahn lectures at professional agriculture organization meetings and at industry symposia. Mr. Rahn has published technical articles in respected, peer reviewed trade journals.

Certifications:
---
ARCPACS Certified Professional Agronomist # 3100 25 years
ARCPACS Certified Professional Soil Scientist # 3100 25 years
ARCPACS Certified Crop Advisor
Michael Princevalle, Senior Soil Scientist
---
Mr. Princevale is a senior consulting soil scientist and viticulturist for CVC. Mr. Princevalle was employed as a Soil Scientist and Project Engineer at various agricultural and environmental engineering consultancy firms, and has been a Soils Scientist and Viticulturist for Coastal Viticultural Consultants since 1998.
From 2001 to 2009, Mr. Princevalle was a Board Director at Tri-Valley Conservancy, a land conservancy and agricultural advocacy non-profit organization, was voted Grower of the Year (2013) by the Livermore Valley Winegrowers Association, and has been a wine judge for various competitions.  Mr. Princevalle has given technical talks at industry events and a guest lecturer at UC Davis and Las Positas College. 
Seth Schwebs, Senior Consulting Viticulturist
---
Mr. Schwebs is a senior consulting viticulturist and GIS analyst for CVC. Mr. Schwebs grew up in rural Wisconsin. Moving to California after college, he was involved with early efforts to introduce Geographic Information Services (GIS) into California viticulture. Seth is highly qualified in GIS and has acquired 16 years premium vineyard experience in California and Oregon.
Tom Diaz, Viticulturist
---
Mr. Diaz was raised on a farm and has a strong farming background. Mr. Diaz has vast experience in providing technical support services to the agriculture industry. Mr. Diaz manages the vineyard technical data collection for CVC.