Aerial Imagery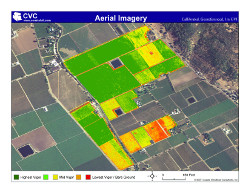 Aerial imagery plays a critical role and makes major contributions to effective vineyard management.


CVC has partners with aerial imagery services to provide our clientele with a wide choice of imagery products and high revisit collection frequencies. High quality imagery (NDVI, color infrared, color oblique and thermal) is available on a 40 week annual program, a 15 week revisit package or a one visit per season image. Please contact CVC directly to choose the correct plan and to secure a price quote.
The most current imagery can be viewed here on CVC's website. CVC also provides interpretation of the aerial imagery and assists our clients on how to best utilize the data.

Aerial Imagery applications in viticulture:


Identifying, locating and quantifying variability in vineyard growth.
Monitoring changes in vineyard growth patterns.
Direction of soil, plant tissue and fruit sampling programs.
Identifying and locating growth or vigor patterns that produce optimal fruit quality.
Delineating fruit quality variability for more precise, directed fruit harvesting.
Implementation of Precision Farming techniques and equipment.
Improving efficiency by directing fertilizer and other inputs to specific areas within each vineyard.
Direction of field crews or contractors to specific areas within the vineyard.
Normalized Difference Vegetation Index (NDVI)

Color Infrared